Sci-Fi Sounds and Music: Creature SoundPack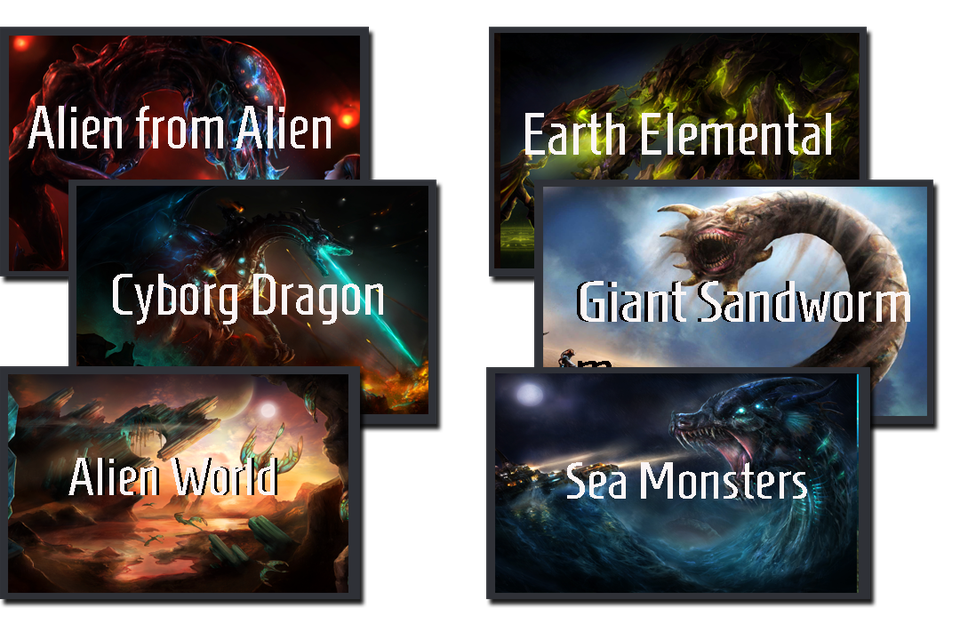 SIX SoundSets for the price of FIVE! : Alien from Alien, Earth elemental, Cyborg dragon, Giant sandworm, Alien world and Sea monsters.

This great value SoundPack is HUGE! At least the creatures packaged up for you here... are HUGE. Huge and angry.... brain suckingly, bone smashingly angry. Grab this SoundPack and then unleash an evening of Sci-Fi horror on your players! See the individual product listings in the store for demo videos of each SoundSet.

These SoundSets will appear by default in the Syrinscape Sci-Fi Player app, but you can make them appear in any of the apps by using the Campaign Manager.
This product is included for FREE with a SuperSyrin Subscription. Consider trying that out instead?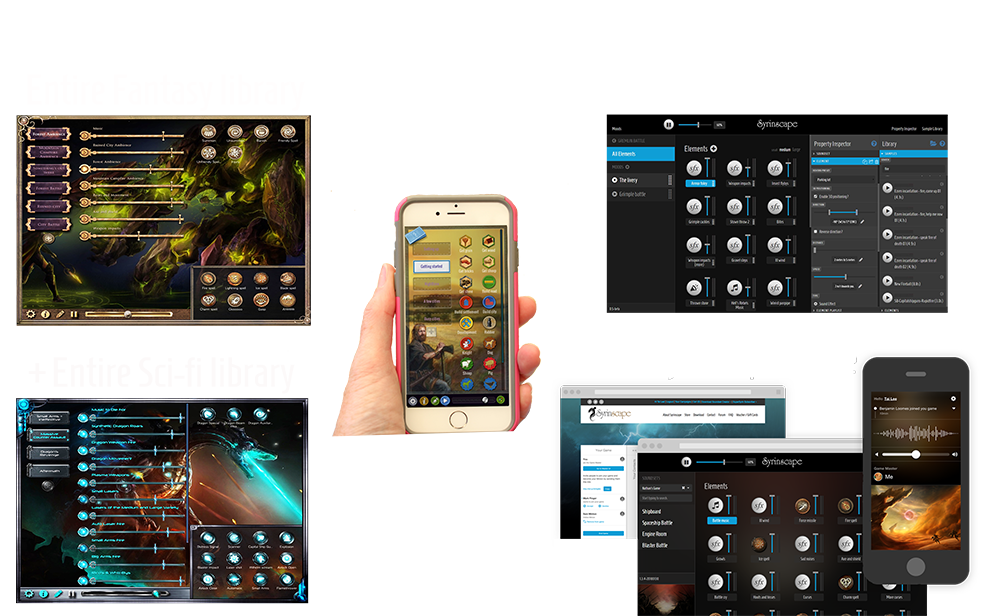 $10.99 per month. 1st month FREE.
Full access to everything Syrinscape.
Cancel before the end of your trial and pay nothing.


SoundSet Specifics
SoundSet
Moods
It's way too quiet
Aliens on top of us
Alien vs men with guns
Aliens vs men with lasers
Self destruction

Elements
Scary Music
Atmospheric Hum
Impending Ambience
Computer Pollution
Airlock Open
Airlock Close
Acid Burn
Flamethrower
Arming Detonator
Huge Explosion
Alien Involuntaries
Explosive Atmosphere
Small Arms vs Alien
Lasers vs Alien
Alien Peripherals
Alien Hisses
Alien Attacks

SoundSet
Moods
Ethereal density
Suspended animation
Volcanic insurrection
Surreal landscape
Mutations of Planet X

Elements
Atmosphere 1
Atmosphere 2
Atmosphere 3
Atmosphere 4
Atmosphere 5
Electric Storm
Firebursts
Music Cues

SoundSet
Moods
Small Arms = Ineffective
Massive Counter Assault
Dragon's Revenge
Aftermath

Elements
Music to Die For
Synthetic Dragon Roars
Dragon Weapon Fire
Dragon Movement
Plasma Weapons
Small Lasers
Lasers of the Medium and Large Variety
Auto Laser Fire
Small Arms Fire
Big Arms Fire
Rico's & Whiz-Bys
Explosive Situations
City on Fire
City Coming Apart
Frightened Citizens
Death Screams
Dragon Special Attacks
Dragon Beam Weapon
Dragon Auxiliary Weapon

SoundSet
Moods
City Ambience
Forest Ambience
Mountain Campfire Ambience
Summoning of an Urban Spirit
The Polluted Earth Spirit
Angry Forest Spirit
Mountainous Domain

Elements
Music
City Ambience
Ruined City Ambience
Forest Ambience
Mountain Campfire Ambience
Roars and Movement
Small Lasers
Medium and Large Lasers
Auto Laser Fire
Fire Fight Ambience
Projectile MG's
Rico's and Wizby's
Explosive Elements
Summon
Unsummon
Banish
Friendly Spell
Unfriendly Spell
Disintigrate

SoundSet
Moods
Sheltering from the Sand storm
Out on the sands
Sandstorm
Small Arms vs. Worm
Large Scale Assault
Give it all you got!

Elements
Music
High Winds
Sandy Wind
Burrowing
Surfacing
Small Lasers
Medium and Large Lasers
Plasma Warfare
Auto Lasers
Small Arms
Projectile Rapid Fire
Ricochets & Whiz-Bys
Explosive Events
Vehicular Activity
Screams of Death
G-Worm Attacks
G-Worm Wounded
Vehicle Crash
Smashing a Structure
Worm Growl
Incoming!
Automatic
Small Arms
High Winds
Sandy Wind

SoundSet
Moods
Wooden Ship on Violent Waters
Metal Ship on Violent Waters
An Angry Sea Monster
Sea Monster Chasing Metal
Attack on Metal
Attack on Wood

Elements
The Sea
Violent Winds
Water Crashes
Metal Ship Ambience
Interior Metal Hull Stress and Leaks
Wooden Ship Under Stress
Hull Stress 1
Hull Stress 2
Steam Pipe Burst
Serpent Rising
Serpent Roar
Serpent Tail

Credits
Alien from Alien
The music and sound effects in this SoundSet were imagined, composed, compiled, designed, created, processed and mixed by Gil Luna for syrinscape.com
Icons made by:
Lorc, (http://lorcblog.blogspot.com)
Delapouite, (http://delapouite.com)
John Colburn, (http://ninmunanmu.com)
Felbrigg, (http://blackdogofdoom.blogspot.co.uk)
Available on http://game-icons.net
Alien World
The music and sound effects in this SoundSet were imagined, composed, compiled, designed, created, processed and mixed by Gil Luna for syrinscape.com
Icons made by:
Lorc, (http://lorcblog.blogspot.com)
Delapouite, (http://delapouite.com)
John Colburn, (http://ninmunanmu.com)
Felbrigg, (http://blackdogofdoom.blogspot.co.uk)
Available on http://game-icons.net
Cyborg Dragon
The music and sound effects in this SoundSet were imagined, composed, compiled, designed, created, processed and mixed by Gil Luna for syrinscape.com
Icons made by:
Lorc, (http://lorcblog.blogspot.com)
Delapouite, (http://delapouite.com)
John Colburn, (http://ninmunanmu.com)
Felbrigg, (http://blackdogofdoom.blogspot.co.uk)
Available on http://game-icons.net
Earth Elemental
The music and sound effects in this SoundSet were imagined, composed, compiled, designed, created, processed and mixed by Gil Luna for syrinscape.com
Icons made by:
Lorc, (http://lorcblog.blogspot.com)
Delapouite, (http://delapouite.com)
John Colburn, (http://ninmunanmu.com)
Felbrigg, (http://blackdogofdoom.blogspot.co.uk)
Available on http://game-icons.net
Giant Sand Worm
The music and sound effects in this SoundSet were imagined, composed, compiled, designed, created, processed and mixed by Gil Luna for syrinscape.com
Icons made by:
Lorc, (http://lorcblog.blogspot.com)
Delapouite, (http://delapouite.com)
John Colburn, (http://ninmunanmu.com)
Felbrigg, (http://blackdogofdoom.blogspot.co.uk)
Available on http://game-icons.net
Sea Monsters
The music and sound effects in this SoundSet were imagined, composed, compiled, designed, created, processed and mixed by Gil Luna for syrinscape.com
Icons made by:
Lorc, (http://lorcblog.blogspot.com)
Delapouite, (http://delapouite.com)
John Colburn, (http://ninmunanmu.com)
Felbrigg, (http://blackdogofdoom.blogspot.co.uk)
Available on http://game-icons.net