First, what is Syrinscape?

Syrinscape is the revolutionary sound design app that brings evocative, immersive, background sound and a movie-like sound track to tabletop RPGs. Syrinscape conjures every aural landscape imaginable, from ethereal forests and dank vermin-filled dungeons to the mysterious reaches of space and the depths of elder-god induced madness.

The user interface has been specifically designed for Game Masters to help them keep their attention on the players, while keeping the attention of the Players focused on the game. It does this by using powerful algorithms to distribute thousands of samples randomly in time and in the surround sound environment.

Unlike a looped mp3 recording, Syrinscape will never repeat itself. Each element of the sound design is separately controlled by the app, automatically randomised and positioned, even things like the acoustic of the environment are dynamically applied.

Next, learn the basics of using the Syrinscape Web Player

Here's a quick start guide to using the Syrinscape Web Player using just the free content that comes with Syrinscape. You can try out everything you see in this video without even registering an account at app.syrinscape.com

Learn basic terminology, important concepts and make some noise.

Now let's take a bit of a deeper dive now into actually running a game!

This is a REALLY SUPER USEFUL video with some great tips for how to DJ the easiest, quickest, most fun, most effective way while you DM games for your friends. Watch it! You won't regret you did!

Where to now?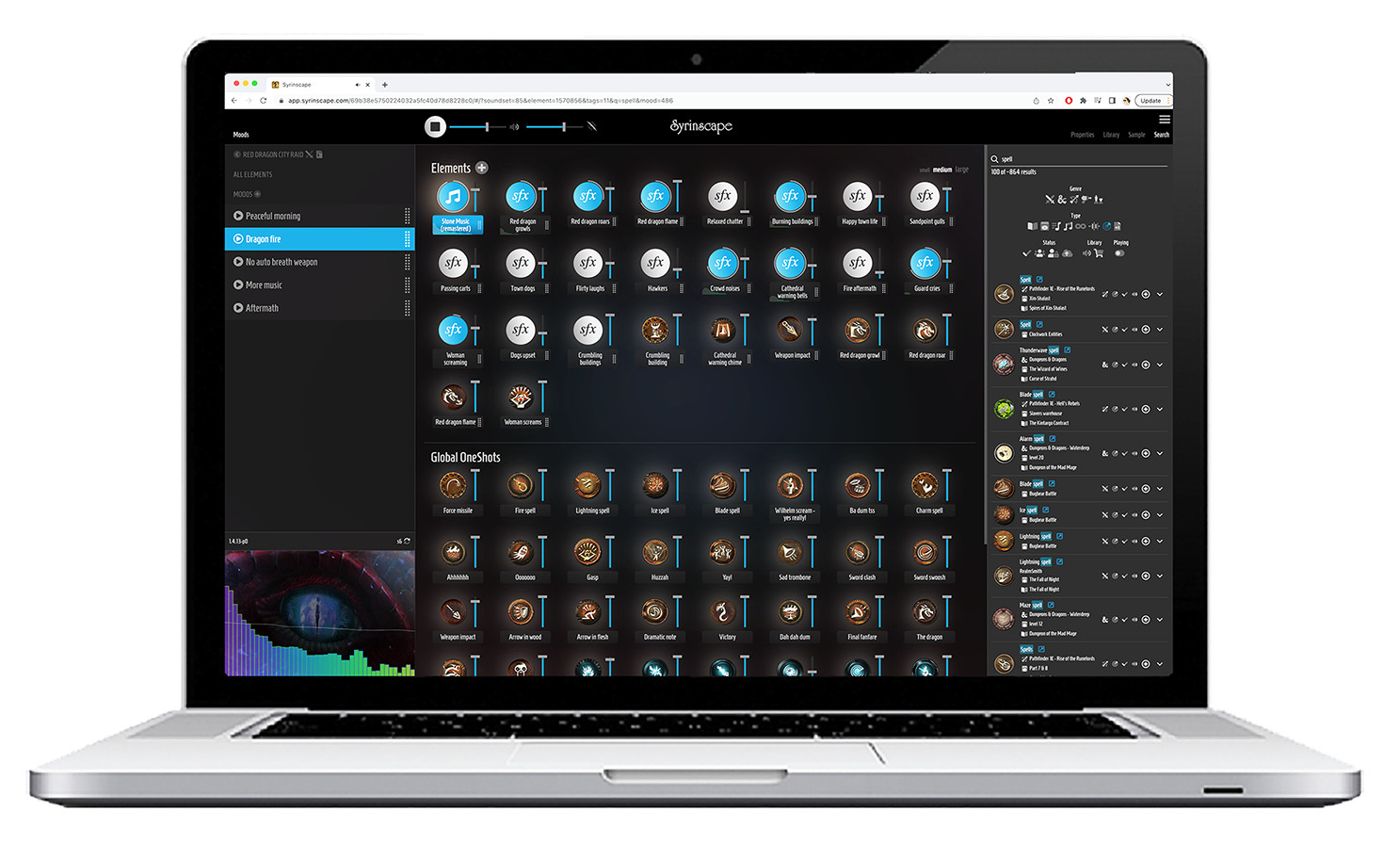 For online remote play with direct in-browser sound. No download or install necessary.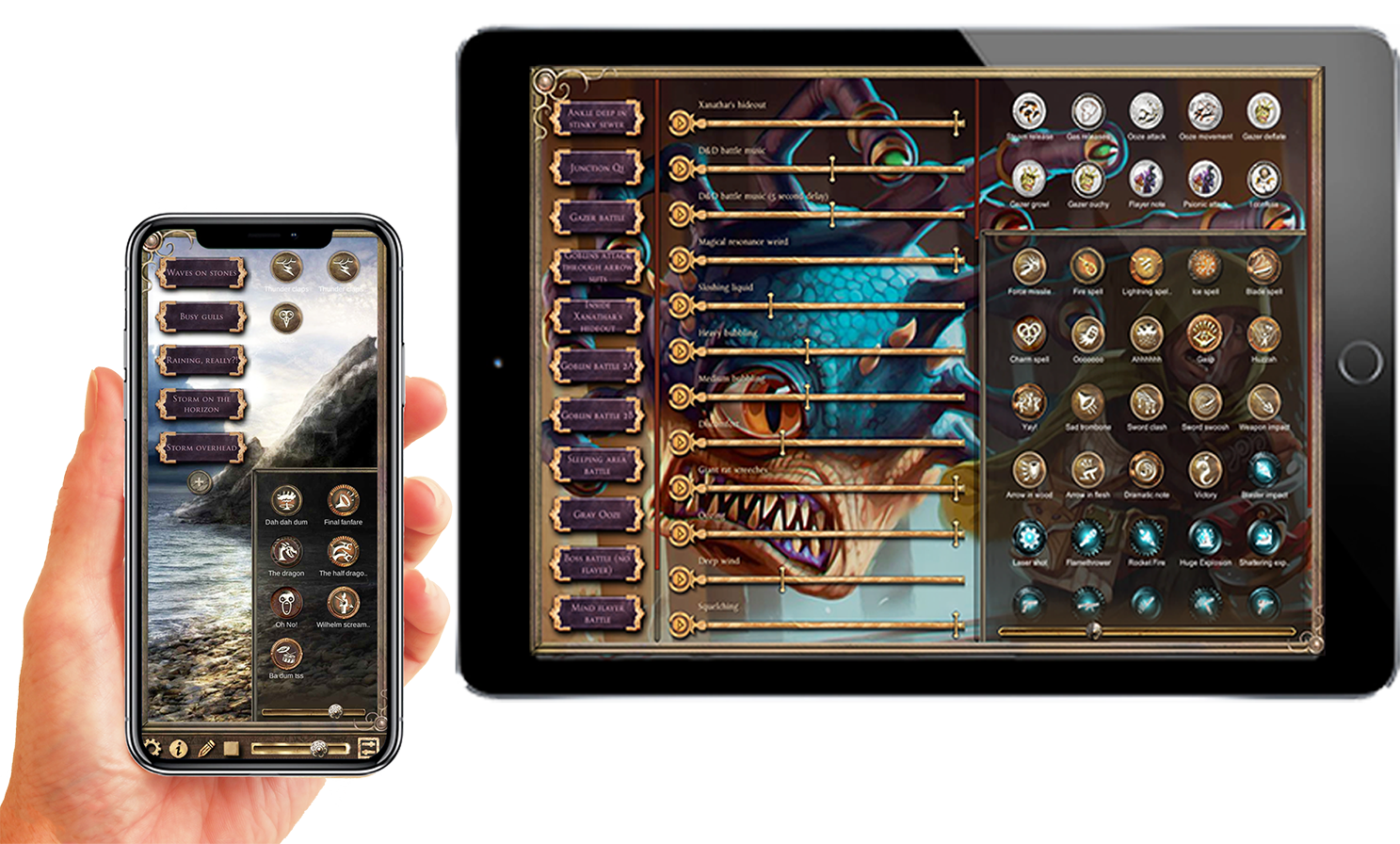 For offline play or to use Syrinscape on phones or tablets with a downloadable app.
What about tutorials for the downloadable app (Syrinscape Fantasy Player)?
How to use Syrinscape Fantasy Player in 5 quick videos
A definite must watch, this playlist of videos will get you started on everything you need to know about using the Syrinscape Fantasy, Sci-Fi, or Board Game Players for Offline sound at your table. Reach out to us on the forums or via support@syrinscape.com if you have any questions.
How to set up Syrinscape?
Learn how Ben sets up his sound system to best show off Syrinscape to
your Players!!

Syrinscape is a revolutionary sound design app that adds evocative, immersive, ambient background sound and a movie-like sound track to your tabletop RPG gaming experience.

Syrinscape conjures every aural landscape imaginable, from ethereal forests and stony shorelines to dank vermin-filled dungeons and the spooky depths of the underdark.

You can use the tiny speakers of your PC, Mac or tablet - but to get the best out of Syrinscape you definitely should think about using external speakers.

Firstly, you can plug or Bluetooth into a small portable sound system or mini speaker. If you are out and about you might like to use one that is rechargeable, or even a set of small speakers chained together like a set of JBL Extremes. This can be very useful if you are playing in an environment where you don't want to be noisy for people at neighbouring tables (such as a gaming store). Keep the speakers soft and close to each player.

For some more seriously EPIC sounds you can connect via HDMI from your PC or Mac to a surround sound system allowing you to play Syrinscape in full 7.1 surround sound (find the surround settings by clicking the little cog on the bottom left of Syrinscape! Then you can really scare your players with some big bassy bangs and crashes!!


Who created Syrinscape?
Syrinscape is the brainchild of Benjamin Loomes, über-creative musician, composer and most importantly, passionate tabletop
role-player.
Benjamin's passion for tabletop games began decades ago when, as a 10 year old, he was given the 1st Edition Dungeons and Dragons Redbox. Benjamin enthusiastically embraces all styles of tabletop roleplaying, including everything from 5th Edition D&D, D6 Star Wars, Pathfinder, Starfinder, to Call of Cthulhu, Cowboy games such as Boothill and most recently Paranoia.
Check out the Dicestormers' liveplay action on Benjamin's Youtube Channel. Here you will find him playing a host of different characters, including his favourite, Thobias, a corpulent, slightly socially inept cleric, who can't decide which he loves more, bread or wine.
Benjamin is a pianist, singer and composer, having studied under prominent Australian composers Peter Sculthorpe, Anne Boyd and Ross Edwards at the University of Sydney. He has composed a large number of instrumental and vocal works, including two operas which premiered in Sydney, Australia. Much of the music and sound design unique to Syrinscape has been created and composed by Benjamin.
Benjamin's unique creative talent, combined with his love of social gaming has driven him to build something which is changing people's gaming experience. The evocative moods of Syrinscape, from friendly taverns to dungeon depths, help to immerse players in the moment. Just where he wants them to be.
From Benjamin:
I want more people to play the Social Games I enjoy. I want people to enjoy these games more, be immersed more, moved more, thrilled more. I want to make Social Gaming a better experience for all those who are brave enough to play. That's why I created Syrinscape.