Sci-fi Sounds & Music: Sci-Fi Environment SoundPack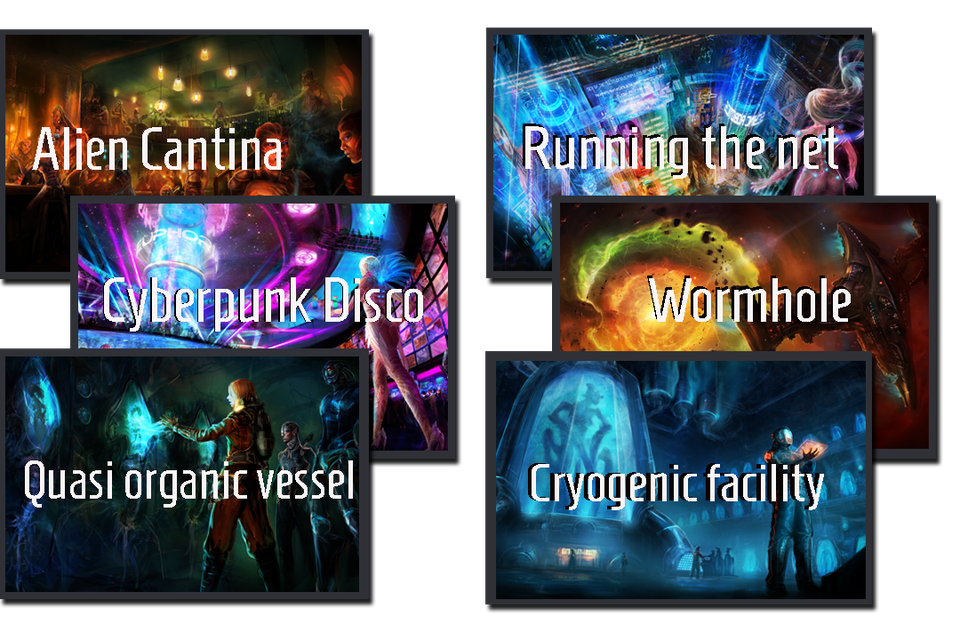 ON SALE for May the 4th at 50% off the normal price!

SIX SETS for the price of FIVE! : Alien Cantina, Cyberpunk Disco, Quasi organic vessel, Running the net, Wormwhole, Cryogenic facility.

Everywhere you'd want to go in the best of Sci-Fi Tabletop roleplaying evenings. From a certain recognizably 'Star wars' Cantina, a grooving Shadowrun disco, to a disgustingly organic vessel and a cryogenic facility filled with things you hope don't escape (they will, they always do). There's even a beautifully peaceful wormhole and all the sounds you'll need to 'run the net'. See the individual product listings in the store for demo videos of each SoundSet.

These SoundSets will appear by default in the Syrinscape Sci-Fi Player app, but you can make them appear in any of the apps by using the Campaign Manager.
This product is included for FREE with a SuperSyrin Subscription. Consider trying that out instead?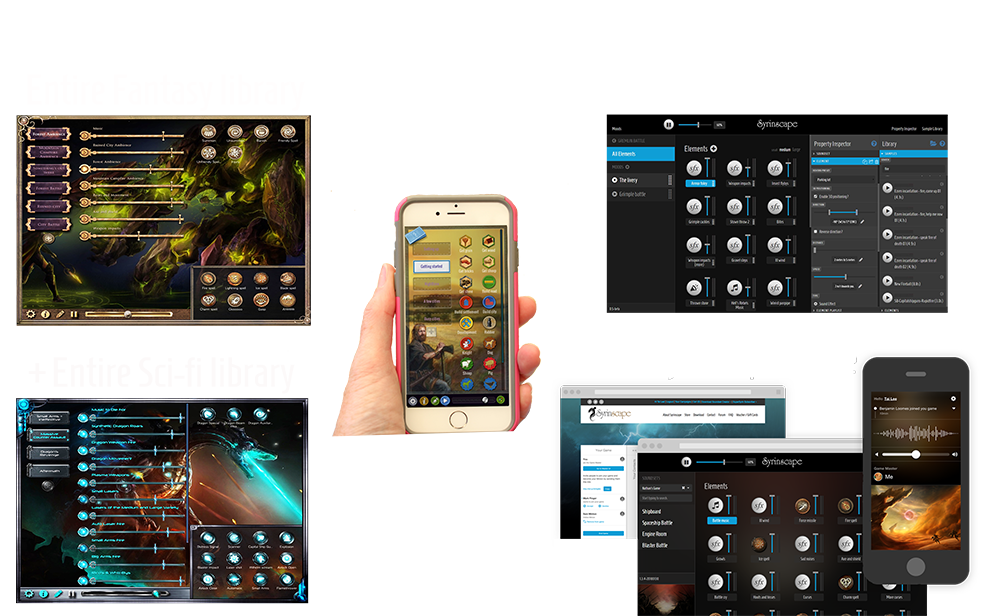 $10.99 per month. 1st month FREE.
Full access to everything Syrinscape.
Cancel before the end of your trial and pay nothing.


SoundSet Specifics
SoundSet
Moods
Crowded
Not so crowded
Trouble with the law
No music

Elements
Music
Crowd Ambience
Mechanical Ambience
Laser Fight Sequence
Trooper Fight Sequence
Light Sword Fight Sequence
Talking Droid
Wilhelm scream
Alien Group 1
Alien Group 2
Alien Group 3
Alien Group 4
Alien Group 5
Trooper Presence

SoundSet
Moods
Busy at the bar
On the dance floor
In a quiet corner
Back room negotiations

Elements
Music
Music through a door
Busy on the dance floor
Cheering crowd
Alien crowd
Cheering crowd
Air conditioning hum
Security systems

SoundSet
Moods
In the control rooom
The Facility is Operational
They Are Running Tests
Something Went Seriously Awry
Evacuate

Elements
Computer Room Ambience
Cryogenic Energy Hum
A Gathering of Scientists
Cryo Tube Open
Cryo Tube Close
Tube Explodes
Short Circuit
Cold Pressure Release
Drone of Doom!
Cryo Chamber Warning
Explosions
Alarm!
They Are Dying!
They Want Out

SoundSet
Moods
Oh So Quiet
It's Alive!
She's Gonna Blow!
Drone in my Head

Elements
Music
Computer Room Ambience
Pulsating Power Source
Power Hum
Electromagnetic Heart Beat
Explosive Events
Alarm
Transponder Signal
Energy Portal Open
Energy Portal Close
Neural Network
Organic Matter
More Organic Matter
Organic Telemetry
Plasma Bursts

SoundSet
Moods
Floating in Virtual Space
Intruder Alert!
Encrypted Data Store
Running the Net

Elements
Music
Firewall
Data Streams
CODE RED Alarm
Virtuosity Layer
Jack In
Corrupted Data
Jack Out
Accessing Data
Security Breach Warning
Authorization Required
The Matrix
Node Barrier
Telemetry
Large Construct Movement
Medium Construct Movement
Slave Nodes
Light Particle Movement

SoundSet
Moods
Interior Science Vessel
Wormhole Observation
Meditations in Space
Caught in the Gravity Pull
Curiosity Killed the Space Vessel
Calm After the Storm
Through the Vortex

Elements
Ambient Surroundings
Deep Space
Gravity Well
Anomaly X
Sub Transmission
Winds of Space
Element Vertigo
Space Vessel Observation Deck
Stressful Surroundings
Hum of the Vortex
Mass and Density
Anticipating the Worst
Vortex
That Heavenly Feeling
Probe Launch
Failed Distress Attempt
Female Computer Warnings
Tachyon Scanner
Subspace Field Scanner
Static Emmissions
Interior Structural Damage
Interior Structural Debris
Electric Sparks
Structural Explosions
Structural Stress
Female Computer Alert
Hull Vibrations
Twisting Resonance

Credits
Alien Cantina
The music and sound effects in this SoundSet were imagined, composed, compiled, designed, created, processed, and mixed by Gil Luna for syrinscape.com
Icons made by:
Lorc, (http://lorcblog.blogspot.com)
Delapouite, (http://delapouite.com)
John Colburn, (http://ninmunanmu.com)
Felbrigg, (http://blackdogofdoom.blogspot.co.uk)
Available on http://game-icons.net
Club Flux
This SoundSet was imagined, compiled, designed, created, mixed and finished by Benjamin Loomes of syrinscape.com, using samples created by him and also the following list of samples from the collaborative Internet database of creative-commons licensed sounds freesound.org:
"crowd-noise-in-small-venue-001" by "sandyrb" (http://www.freesound.org/people/sandyrb/)
"crowd-yay-applause-25ppl-short – NONE" by "jessepash" (http://www.freesound.org/people/jessepash/)
"crowd-yay-applause-25ppl-long – NONE" by "jessepash" (http://www.freesound.org/people/jessepash/)
"air_pump_drone_and_hum" by "Tomlija" (http://www.freesound.org/people/Tomlija/)
"crowd-yay-applause-25ppl-medium – NONE" by "jessepash" (http://www.freesound.org/people/jessepash/)
"applause-3" by "syna-max" (http://www.freesound.org/people/syna-max/)
The music in this SoundSet was composed, performed, recorded, mixed and mastered by Johnny Sharpe for syrinscape.com
Icons made by:
Lorc, (http://lorcblog.blogspot.com)
Delapouite, (http://delapouite.com)
John Colburn, (http://ninmunanmu.com)
Felbrigg, (http://blackdogofdoom.blogspot.co.uk)
Available on http://game-icons.net
Cryogenic Facility
The music and sound effects in this SoundSet were imagined, composed, compiled, designed, created, processed and mixed by Gil Luna for syrinscape.com
Icons made by:
Lorc, (http://lorcblog.blogspot.com)
Delapouite, (http://delapouite.com)
John Colburn, (http://ninmunanmu.com)
Felbrigg, (http://blackdogofdoom.blogspot.co.uk)
Available on http://game-icons.net
Quasi-Organic Vessel
The music and sound effects in this SoundSet were imagined, composed, compiled, designed, created, processed and mixed by Gil Luna for syrinscape.com
Icons made by:
Lorc, (http://lorcblog.blogspot.com)
Delapouite, (http://delapouite.com)
John Colburn, (http://ninmunanmu.com)
Felbrigg, (http://blackdogofdoom.blogspot.co.uk)
Available on http://game-icons.net
Running the Net
The music and sound effects in this SoundSet were imagined, composed, compiled, designed, created, processed and mixed by Gil Luna for syrinscape.com
Icons made by:
Lorc, (http://lorcblog.blogspot.com)
Delapouite, (http://delapouite.com)
John Colburn, (http://ninmunanmu.com)
Felbrigg, (http://blackdogofdoom.blogspot.co.uk)
Available on http://game-icons.net
Wormhole
The music and sound effects in this SoundSet were imagined, composed, compiled, designed, created, processed and mixed by Gil Luna for syrinscape.com
Icons made by:
Lorc, (http://lorcblog.blogspot.com)
Delapouite, (http://delapouite.com)
John Colburn, (http://ninmunanmu.com)
Felbrigg, (http://blackdogofdoom.blogspot.co.uk)
Available on http://game-icons.net