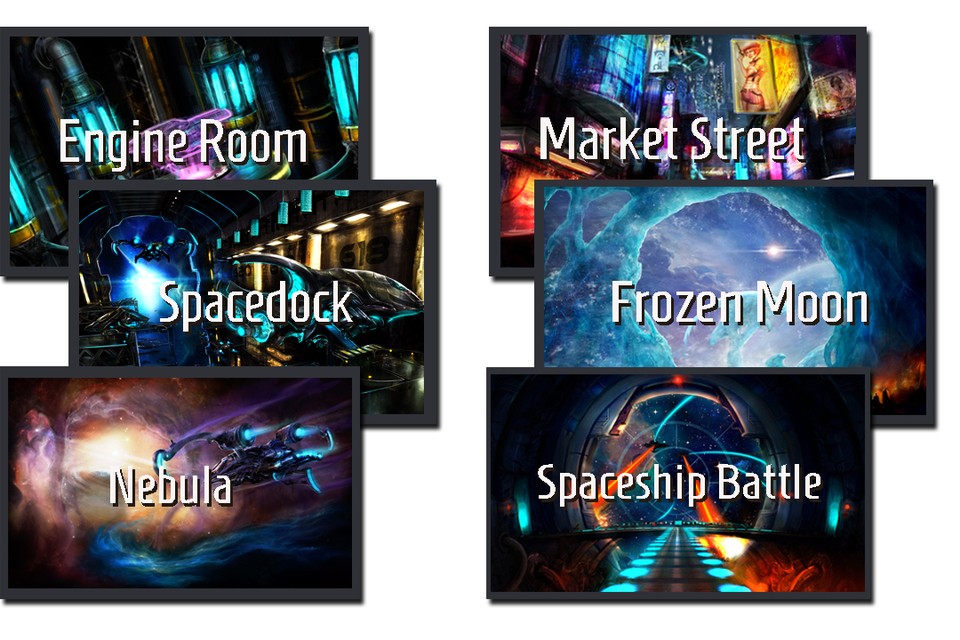 SIX SETS for the price of FIVE! : Spaceship Battle, Frozen Moon, Spacedock, Nebula, Market Street 2076, Engine Room

This SoundSet Pack includes an excellent cross-section of the sorts of locations you need to run any typical Sci-Fi Tabletop Roleplaying Game. With these SoundSets your players will be able to battle ship to ship with nasty aliens, rush down to their Engine Room only to discover a meltdown too far progressed to fix, try and get their ship repaired at Spacedock, get lost on the streets of an exotic alien planet, be arrested for some embarrassing cross-cultural misunderstanding and end up lying face-down in the snow hallucinating from the penetrating cold that they are back in the arms of a massive and beautiful Nebula.

These SoundSets will appear by default in the Syrinscape Sci-Fi Player app, but you can make them appear in any of the apps by using the Campaign Manager.
This product is included for FREE with a SuperSyrin Subscription. Consider trying that out instead?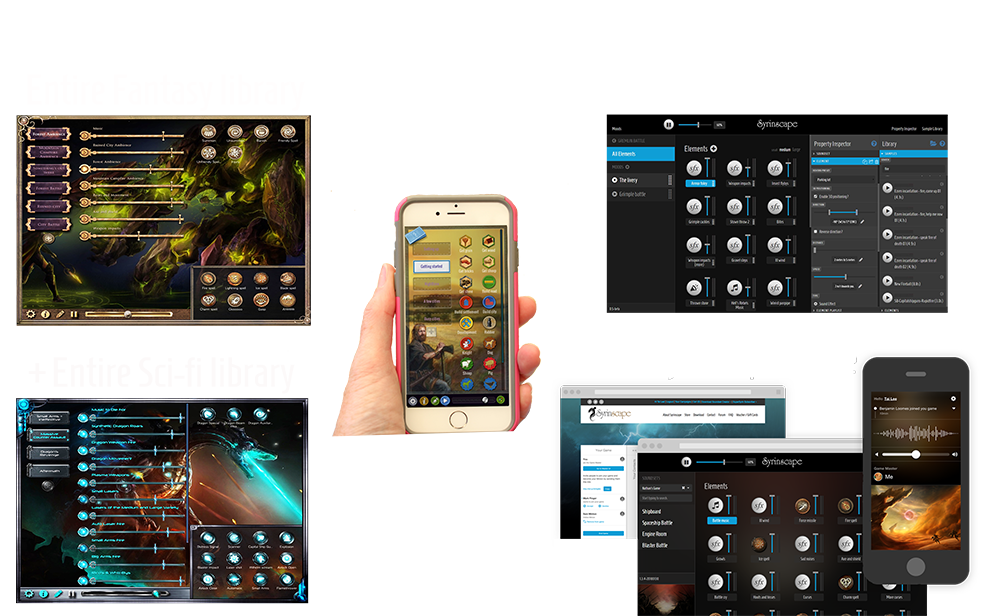 $10.99 per month. 1st month FREE.
Full access to everything Syrinscape.
Cancel before the end of your trial and pay nothing.


SoundSet Specifics
SoundSet
Moods
Idle
Cruise Speed
Warp Speed
Subspace Field Generator
Meltdown!!!

Elements
Warp Drive
Computer Array
Fusion Reactor
Power Transfer Grid
Impulse Reactor
Hull Resonance
Antimatter Relay
Destruction and Chaos
Plasma Intercooler
Matter-Antimatter Reaction Assembly
Warp Core
Power Transfer Conduit
Alarm!
Power Transfer Distribution
Antimatter Containment Process
Subspace Field Discharge
Warp Speed
Comm Voice "Hyperdrive Engaged!"
Comm Voice Meltdown Warnings
There she blows!
Plasma Bursts

SoundSet
Moods
Frozen Expanse
Traversing the Tundra
Solo Trek
Walking With Heavy Breath
The Wind is Strong in This One
Panicked

Elements
Music
Wind Chilly
Wind Cold
Wind Gusty
Wind Howling
Wind Strong
Wind Whistly
Footsteps in Snow (Group)
Footsteps in Snow (Single)
Space Suit Breath
Space Suit Panic
Distress Signal
Great Snow Beast
Oxygen Low
Scanner
Beast Screams
Beast Screeches
Wind Chilly
Wind Cold
Wind Gusty
Wind Howling
Wind Strong
Wind Whistly

SoundSet
Moods
Busy
No So Busy
Deserted
Bladerunner
Neo Tokyo
Alley Market

Elements
Music
During a Rain
Crowd Ambience : Vendors
Crowd Ambience : Loiterers
Foot Traffic
Vehicle Traffic
Advertisement Echoes
Asian Undertones
Neon Lights
Walking Mech
Nearby Explosion

SoundSet
Moods
Meditation In Space
Space Anomaly
Falling Stars
Solar Orbit
Meteor Shower
Debris Field

Elements
Ambience
Cosmic Dust
Cosmic Debris
Celestial Clouds
Distress Signal
Hull Impacts 1
Hull Impacts 2
Hull Scrapes & Vibrations
Passing Comet
Radio Interference
Satellite Telemetery
Solar Flares
Solar Winds
Alien Lifeform
Space Warp
Supernova
Dark Matter

SoundSet
Moods
All Systems Go
Ready to Launch
Cargo Ships
Retrofit in Progress

Elements
Hangar Ambience
Com Voice
Servos & Lifts
Engine Noise
Work Tools
Machinery
Electric Shocks
Welding Sparks
Docking Sequence Alarm
Docking Sequence
Force Field Power Up
Force Field Power Down
Take-Offs & Landings

SoundSet
Moods
Dog Fight
Minor Skirmish
Battle Fleet
No Music

Elements
Music
Tractor Beam
Bomber Hits
BFLaser
Laser Strafes 1
Laser Strafes 2
Lasers Rapidfire 1
Lasers Rapidfire 2
Explosions Large
Explosions Even Larger
Ship Fly By Large
Ship Flyby Medium
Ship Flyby Small
Lasers LITE
Capital Ship Engines
Capital Ship Guns
Capital Quad Auto Turrets
Capital Ship Guns Rapidfire

Credits
Engine Room
The music and sound effects in this SoundSet were imagined, composed, compiled, designed, created, processed and mixed by Gil Luna for syrinscape.com
Icons made by:
Lorc, (http://lorcblog.blogspot.com)
Delapouite, (http://delapouite.com)
John Colburn, (http://ninmunanmu.com)
Felbrigg, (http://blackdogofdoom.blogspot.co.uk)
Available on http://game-icons.net
Frozen Moon
The music and sound effects in this SoundSet were imagined, composed, compiled, designed, created, processed and mixed by Gil Luna for syrinscape.com
Icons made by:
Lorc, (http://lorcblog.blogspot.com)
Delapouite, (http://delapouite.com)
John Colburn, (http://ninmunanmu.com)
Felbrigg, (http://blackdogofdoom.blogspot.co.uk)
Available on http://game-icons.net
Market Street 2076
The music and sound effects in this SoundSet were imagined, composed, compiled, designed, created, processed and mixed by Gil Luna for syrinscape.com, using samples created by him and also the following list of users from the collaborative Internet database of creative-commons licensed sounds freesound.org:
hugobeaumont, (http://www.freesound.org/people/hugobeaumont/)
polymorpheva, (http://www.freesound.org/people/polymorpheva/)
sagetyrtle, (http://www.freesound.org/people/sagetyrtle/)
ikbenraar, (http://www.freesound.org/people/ikbenraar/)
ninebilly, (http://www.freesound.org/people/ninebilly/)
felix-blume, (http://www.freesound.org/people/felix-blume/)
alchemical, (http://www.freesound.org/people/alchemical/)
freqman, (http://www.freesound.org/people/freqman/)
snotch, (http://www.freesound.org/people/snotch/)
strawberryviagra(http://www.freesound.org/people/strawberryviagra/)
Icons made by:
Lorc, (http://lorcblog.blogspot.com)
Delapouite, (http://delapouite.com)
John Colburn, (http://ninmunanmu.com)
Felbrigg, (http://blackdogofdoom.blogspot.co.uk)
Available on http://game-icons.net
Nebula
The music and sound effects in this SoundSet were imagined, composed, compiled, designed, created, processed and mixed by Gil Luna for syrinscape.com
Icons made by:
Lorc, (http://lorcblog.blogspot.com)
Delapouite, (http://delapouite.com)
John Colburn, (http://ninmunanmu.com)
Felbrigg, (http://blackdogofdoom.blogspot.co.uk)
Available on http://game-icons.net
Spacedock
The music and sound effects in this SoundSet were imagined, composed, compiled, designed, created, processed and mixed by Gil Luna for syrinscape.com
Icons made by:
Lorc, (http://lorcblog.blogspot.com)
Delapouite, (http://delapouite.com)
John Colburn, (http://ninmunanmu.com)
Felbrigg, (http://blackdogofdoom.blogspot.co.uk)
Available on http://game-icons.net
Spaceship Battle
The music and sound effects in this SoundSet were imagined, composed, compiled, designed, created, processed and mixed by Gil Luna for syrinscape.com
Icons made by:
Lorc, (http://lorcblog.blogspot.com)
Delapouite, (http://delapouite.com)
John Colburn, (http://ninmunanmu.com)
Felbrigg, (http://blackdogofdoom.blogspot.co.uk)
Available on http://game-icons.net