Cyberpunk RED Sounds & Music: Intruder alert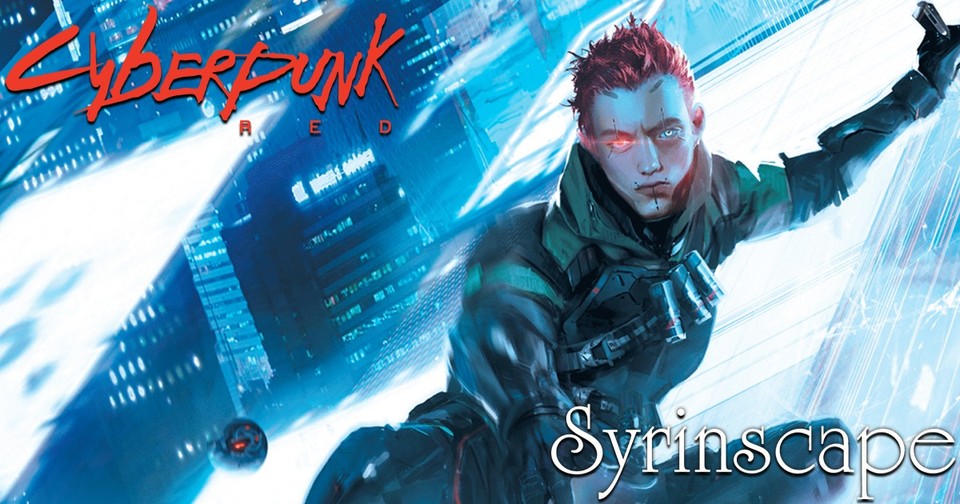 Where there is power there is wealth. The NeoCorps sit on mounds of Eddies, whilst the rest of us choomba's squabble in the dirt for their leftovers. Sometimes all it takes is the right group of Edgerunners to help redistribute that wealth. Sneaking into their ivory towers and snatching the Eurodollers right from under them. The DataKrash blew up the NET, making it impossible to use, so now to hack the servers we need to gain physical entry to the Network Access Terminal first, and they don't usually keep those in the front lobby!

How will you get in? Silent like a shadow in the night, sneaking through crawl ways and access vents or fast and loud through the front door, smart guns blazing! Either way you know CorpSec aren't going to let you get your hands on their dirty little secrets without a fight.

This SoundSet will appear by default in the Syrinscape Sci-fi Player app, but you can make them appear in any of the apps by using the Campaign Manager.
This product is included for FREE with a SuperSyrin Subscription. Consider trying that out instead?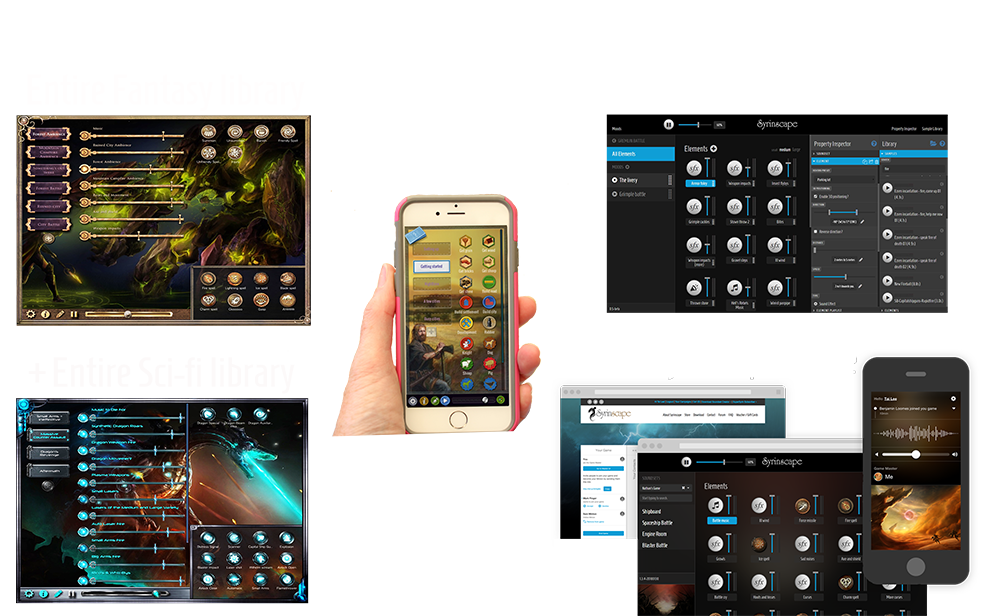 $10.99 per month. 1st month FREE.
Full access to everything Syrinscape.
Cancel before the end of your trial and pay nothing.


SoundSet Specifics
Moods
Corporate zone high alert
Tension in the lobby
Fight in the lobby
Fight in the lobby (with alarm)
Climbing the elevator shaft
Ventilation shafts
Empty corridor
Bullpen on lockdown
Fight in the Bullpen
Fight in the Bullpen (with alarm)
Aftermath
Infiltrating the Execs office
Hostages in the corporate tower
Rooftop firefight
Escape by AV-4
AV4 Escaped!

Elements
Back off!
Lockdown announcements
Guards marching
Music - Tension
Computers start up
Emergency sirens
City ambience traffic
Street talk
Smaller vehicles
Drones
GRAF3's
Advertisement echoes
Advertising broadcasts
Radio comms
Public loud speaker
Footsteps hard floor
Steam releases
Cameras
Doors
Reception phone
Coughing
Howling wind
Flagpole with tapping wire
AV landing external
AV hover internal
AV hover external
AV doors
AV flybys
Laser grid
AV takeoff external
Notification sounds
Computer array
Moving in the vents
Metal flexing
Ventilator low freqency
Footsteps on metal
Gun hits + ricos
Injuries and pain
Automatic fire
Security robot 1 movement
Security robot 2 movement
Commands
Ricochets & whiz-bys
Pain
Metal ladder
Fire alarm
Official Cyberpunk
Flashbang
Hotwire circuits
Electric screwdriver
Security gate
Security camera
Barrier arm
Keypad
Electric door open
Electric door close
Access granted (E)
Access granted (J)
Access denied (E)
Access denied (J)
Agent ringtone
Landing gear external
AV4 door
Jacking in
Electric shutter
Safe opening
Guard patrol
Data access
Climb fence
Cut fence
Silenced shot
Silenced burst
Timed explosive
Electric flooring
Defence turret
Picking lock
Door smash
Emergency trapdoor
Fire alarm
Quarantine alert
Sterilization protocols
Sterilization canceled
Lockdown lifted
Lockdown
Intruder alert
Music - Militech
Music - Storming the building
Music - Corporate
Gunfire
Panicking people
Small explosions
Concerned people
Sobbing
Whispering crowd
Creaking floor
Burning
Power sparks
Creaking AV
Electric drone
AV in flight
Reload
Gun hits + ricos (stops)
Automatic fire (stops)
Ricochets & whiz-bys (stops)
Gunfire (stops)

Credits
Cyberpunk - Intruder alert
This SoundSet was imagined, compiled, designed, created, mixed and finished by Steve Barr for Syrinscape, using samples created by them and also the following list of samples from the collaborative Internet database of creative-commons licensed sounds freesound.org:
"Mag reload" by "bunny-clark" (https://freesound.org/people/bunny-clark/)
"door-garage-door-close-03" by "dwoboyle" (https://freesound.org/people/dwoboyle/)
"drone-take-off" by "n-audioman" (https://freesound.org/people/n_audioman/)
"Servo02" by "LG" (https://freesound.org/people/LG/)
"Servo03" by "LG" (https://freesound.org/people/LG/)
"brooklyn-7-11-altercation" by "vortichez"(https://freesound.org/people/vortichez/)
"closinggaragedoor" Created by Morgantj (https://freesound.org/people/morgantj/)
"Cutting fence" by "Department64" (https://freesound.org/people/Department64/)
"How-may-I-help-you" by "pyro13djt" (https://freesound.org/people/pyro13djt/)
"fire-alarm" by "Payattention" (https://freesound.org/people/payattention/)
Key: "sample name" by "username". Find user freesound accounts under http://www.freesound.org/people/[username]
AND
"Access Denied American" Created by Steve Barr and performed by H.W McCray for Syrinscape
"Security lockdown" Created by Steve Barr & performed by Hollis McCray for Syrinscape
"Access Denied Japanese" created by Steve Barr and performed by Matilda Loomes for Syrinscape
"Access Granted American" Created by Steve Barr and performed by H.W McCray for Syrinscape
"Back off" Created by Steve Barr & Brandon Perkins for Syrinscape
"Flight – internal" Created by steve Barr for Syrinscape
"Quarantine alert" Created by Steve Barr & performed by Hollis McCray for Syrinscape
"Sterilization cancelled" Created by Steve Barr & performed by Hollis McCray for Syrinscape
"Sterilization" Created by Steve Barr & performed by Hollis McCray for Syrinscape
"Access Granted Japanese" created by Steve Barr and performed by Matilda Loomes for Syrinscape
Conduit trap created by Christian Koerding for Syrinscape
Climb metal ladder sounds created by Barry Doublet for Syrinscape
Air vent movement created by Christian Koerding for Syrinscape
Flashbang sound created by Steve Barr for Syrinscape
"Security breach" Created by Steve Barr & performed by Hollis McCray for Syrinscape
power source trap – Created by Barry Doublet for Syrinscape Pty Ltd
Hotwire sounds created by Steve Barr for Syrinscape
Male Pain sounds created by Chris Koerding for Syrinscape
Voice of Devargo by Stephen Graham
Turnstile sounds created by Steve Barr for Syrinscape
Electric door Closing sounds created by Barry Doublet for Syrinscape
Whispering room sounds created by Steve Barr for Syrinscape
AV takeoff sounds created by Steve Barr for Syrinscape
AV hover sound created by Steve Barr for Syrinscape
AV Landing sound created by Steve Barr for Syrinscape
Electric screwdriver sounds created by Steve Barr for Syrinscape
Disable electronic lock created by Christian Koerding for Syrinscape using CC0 samples
Climbing metal ladder sounds created by Barry Doublet for Syrinscape
Securitech officer message created by Barry Doublet for Syrinscape
Electronic safe sounds created by Steve Barr for Syrinscape
Subway elevator sounds created by Steve Barr for Syrinscape
Cough sounds created by Steve Barr for Syrinscape
Streetbrawl pain created by Christian Koerding for Syrinscape
Strobe effect created by Steve Barr for Syrinscape
Ventilator wheel low frequency created by Christian Koerding for Syrinscape
Keypad sounds created by Chris Koerding for Syrinscape
CK Running Troops created by Chris Koerding for Syrinscape
AND
Music performed, recorded, mixed and mastered by Benjamin Loomes for Syrinscape and also:
"A Safer District" – composed by Joe McCullough for Syrinscape
"No bossa me round" – composed by Benjamin Loomes for Syrinscape
"NFT Insurance" composed and performed by Barry Doublet for Syrinscape
"Neocorps execs office music" – composed by Benjamin Loomes for Syrinscape
"Gad-Ja-Wana" composed and performed by Barry Doublet for Syrinscape
"Gad-Ja-Wana" composed and performed by Barry Doublet for Syrinscape
"Militech" composed, performed and mixed by Joe McCullough for Syrinscape
"Smoke" – composed, performed and mixed by Joe Mccullough for Syrinscape
"Cybertension" – composed, performed and mixed by Joe McCullough for Syrinscape
"CyberConflict" – composed, performed and mixed by Joe Mccullough for Syrinscape
"No peace" – composed, performed and mixed by Joe Mccullough for Syrinscape
"Cold Warehouse" – composed by Joe McCullough for Syrinscape
"NFT Insurance" composed and performed by Barry Doublet for Syrinscape
AND
Icons made by:
Lorc, (http://lorcblog.blogspot.com)
Delapouite, (http://delapouite.com)
John Colburn, (http://ninmunanmu.com)
Felbrigg, (http://blackdogofdoom.blogspot.co.uk)
Available on http://game-icons.net
And Karen Loomes for syrinscape.com
Background and product art supplied by R Talsorian Games Inc. 2023