Fantasy RPG Sound Effects | Tropical jungle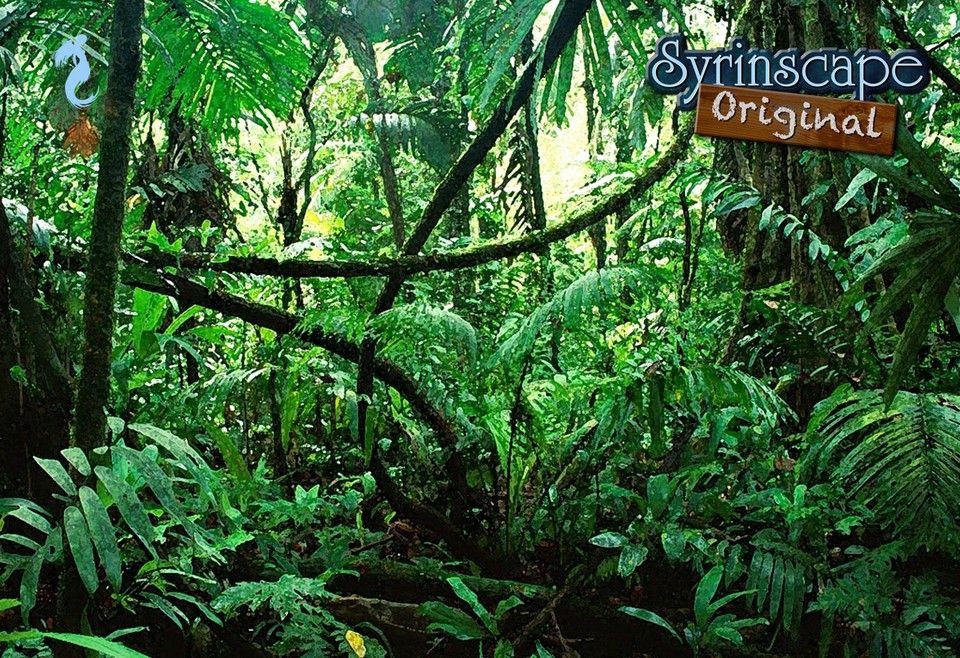 Life lives out loud in the deep jungle. Birds sing, insects buzz, frogs call, and the monkeys howl to one another, along with other sounds you can't seem to identify. All creating a constant noise among the vine entangled emerald canopy of trees.

This SoundSet will appear by default in the Syrinscape Fantasy Player app, but you can make it appear in any of the apps by using the Campaign Manager.
This product is included for FREE with a SuperSyrin Subscription. Consider trying that out instead?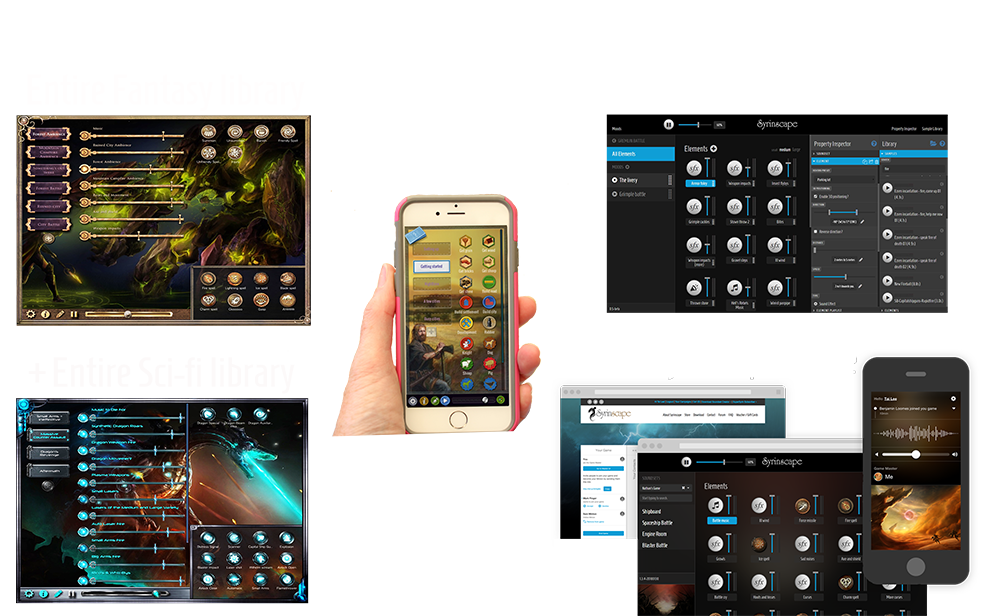 $10.99 per month. 1st month FREE.
Full access to everything Syrinscape.
Cancel before the end of your trial and pay nothing.


SoundSet Specifics
Moods
Jungle daytime
Jungle daytime (with music)
Wagon journey
Gathering storm
Jungle rain
Jungle nighttime
Down by the river
Deep in the jungle
Deep in the jungle (with music)

Elements
Jungle journey
Exploring the jungle music
Hot day insects
Cicadas
Weird frogs
Growls
Distant wildlife
Wildlife
Peaceful stream
Waterfall
Heavy rain
Creaking trees
Bird songs
Insects
More birds
Raining again
Light rain
Happy birdies
Distant growls
Insect thrum
Insect flybys
Crows
Eagle calls
Frogs
Weird bugs
Night Insects
Owls
Cuckcoos
Night birds
Tumbling pebbles
Lizard hisses
Monkey hoots
Jungle animal cries
Underbrush occasional
Jungle (loop)
Exotic birds
Footsteps in mud
Apes and monkeys
Rich jungle atmosphere
Elephants
Distant cicadas
Rainforest
Rattle snakes
Quiet rainforest (with distant light rain)
Quiet rainforest (with distant thunder)
Thunder
Distant thunder
Surprised bird
Wagon train
Monkey chatter
Monkey hoot
Ape
Elephant trumpet
Wildlife
Lizard hiss
Surprised bird
Thunder
Distant thunder

Credits
Tropical jungle
This SoundSet was imagined, compiled, designed, created, mixed and finished by Steve Barr and Benjamin Loomes for Syrinscape, using samples created by him and also the following list of samples from the collaborative Internet database of creative-commons licensed sounds freesound.org:
"morning-in-the-forest-2007-04-15" by "reinsamba" (http://www.freesound.org/people/reinsamba/)
"crow" by "vixuxx" (http://www.freesound.org/people/vixuxx/)
"grod-11-animal-4f" by "erh" (http://www.freesound.org/people/ERH/)
"grod-11-animal-5a" by "erh" (http://www.freesound.org/people/ERH/)
"grod-chipmonk" by "erh" (http://www.freesound.org/people/erh/)
"babycry01" by "pfly" (http://www.freesound.org/people/pfly/)
"Borneo Jungle – Day" by "RTB45" (https://freesound.org/people/RTB45/)
"light-rain-in-forest-wav" by "inchadney" (http://www.freesound.org/people/inchadney/)
"rubble-017" by "dj-chronos" (https://freesound.org/people/dj-chronos/)
"carrion-crows" by "benboncan" (http://www.freesound.org/people/benboncan/)
"craw" by "inchadney" (http://www.freesound.org/people/inchadney/)
"rubble-015" by "dj-chronos" (https://freesound.org/people/dj-chronos/)
"bunchofflies" by "herbertboland" (http://www.freesound.org/people/herbertboland/)
"light-rain-in-forest-wav" by "inchadney" (http://www.freesound.org/people/inchadney/)
Key: "sample name" by "username". Find user freesound accounts under http://www.freesound.org/people/[username]
AND
Complete silence performed by Chris Koerding for Syrinscape
Bolivia Rainforest Quiet sounds created by Barry Doublet for Syrinscape
Recorded, mixed and mastered by Benjamin Loomes for syrinscape.com
Parrot distant sounds created by Barry Doublet for Syrinscape
Footsteps in mud created by Barry Doublet for Syrinscape
Brush movement sounds created by Chris Koerding for Syrinscape
Elephant bird wings created by Christian Koerding for Syrinscape
Elephant bird created by Christian Koerding for Syrinscape
A manly wolf created by Benjamin Loomes for Syrinscape
Wolf howl recorded, mixed and mastered by Benjamin Loomes for Syrinscape
Bolivia rainforest sounds created by Barry Doublet for Syrinscape
All weapons recorded and mastered by Benjamin Loomes for Syrinscape
Music composed, performed and recorded by Benjamin Loomes for Syrinscape.
"Forest exploration" composed and performed by Barry Doublet for Syrinscape
"Jungle journey" composed and performed by Andreas Petersen for Syrinscape
"Search for the temple" composed and performed by Barry Doublet for Syrinscape
"Tomb of the sleeper" composed and performed by Barry Doublet for Syrinscape
"Camp fire story" composed and performed by Barry Doublet for Syrinscape
"It's raining again " composed and performed by Barry Doublet for Syrinscape
"It's raining again " composed and performed by Barry Doublet for Syrinscape
Icons made by:
Lorc, (http://lorcblog.blogspot.com)
Delapouite, (http://delapouite.com)
John Colburn, (http://ninmunanmu.com)
Felbrigg, (http://blackdogofdoom.blogspot.co.uk)
Available on http://game-icons.net
And Karen Loomes for syrinscape.com
Background Art sourced from Flickr Public Domain CC0 and edited by Karen Loomes for Syrinscape