Fantasy RPG Sound Effects: Wizard's tower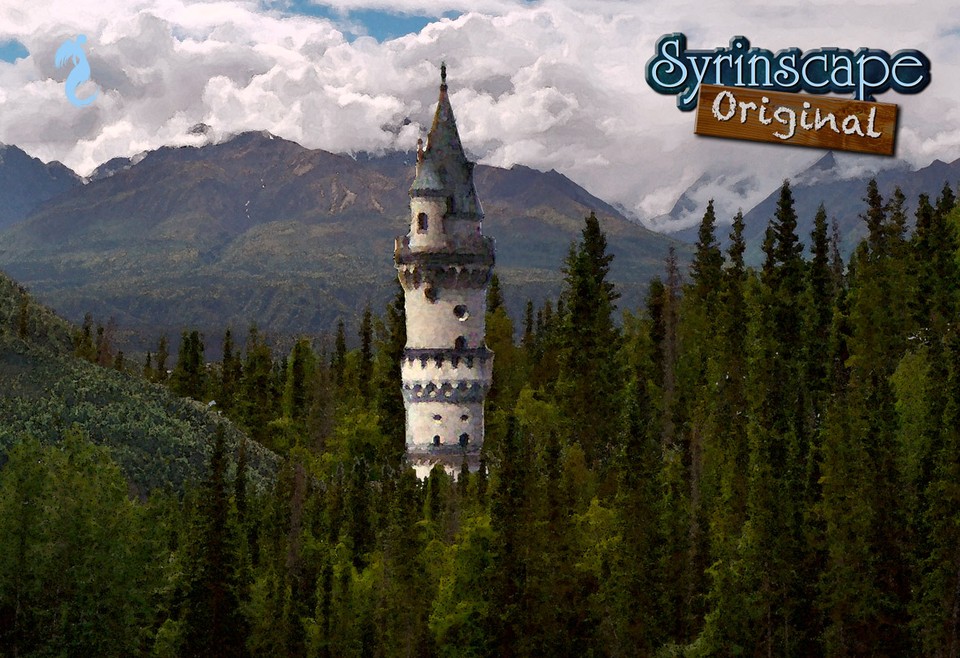 Rising majestically, threateningly, and precariously out of the deep forest, this Wizard's tower is the perfect place for a whole host of perilous adventures. Featuring numerous, dangerously magically-infused locations there's something here to fascinate and threaten even your most hardy player characters.

The 'Hallways' ambiance sets the scene with many many rarely playing events such as: footsteps; distant explosions; closing doors; breaking beakers; and even a peculiar magical sweeping broom. Each of these events might trigger a mysterious interaction, or draw the PCs deeper into your web of traps... and when we say traps, we are very very serious.

This SoundSet features sixteen rich traps to choose from... heck, put one on every door.

A sequence of three moods, brings your adventures a fully-fledged portal room, with activation and deactivation sounds. There's an alchemy lab, a menagerie with creatures innocent to dangerous, all shaking their cages menacingly. You can fill the hallways with distant incantation sounds, or confusion illusions, or even entertain the players with magically self-playing musical instruments.

With Syrinscape's "Wizard's tower" SoundSet, the possibilities for adventure and inspiration are rich indeed.

We hope you enjoy using this SoundSet as much as we enjoyed making it!

This SoundSets will appear by default in the Syrinscape Fantasy Player app, but you can make it appear in any of the apps by using the Campaign Manager.
This product is included for FREE with a SuperSyrin Subscription. Consider trying that out instead?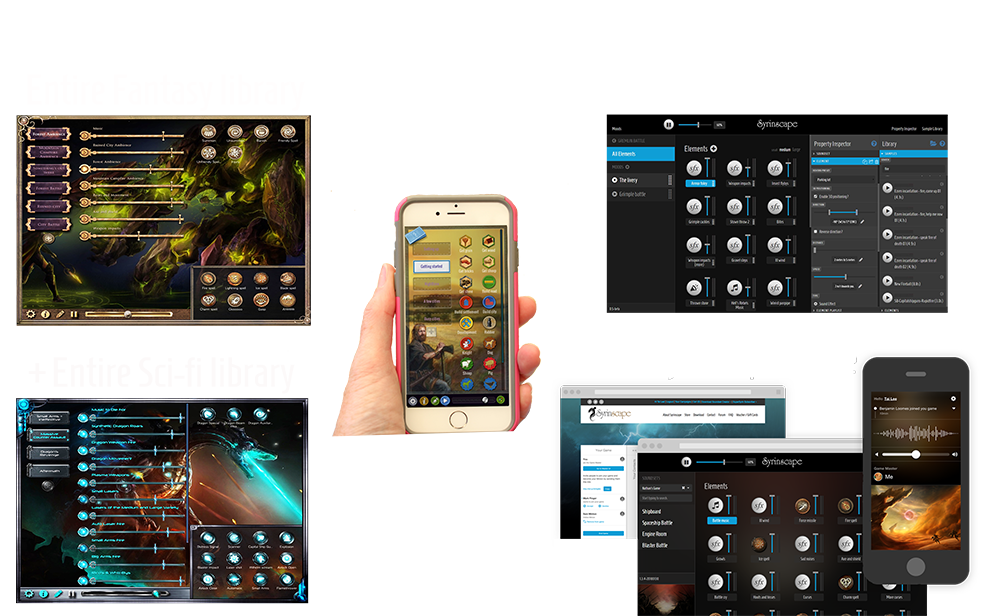 $10.99 per month. 1st month FREE.
Full access to everything Syrinscape.
Cancel before the end of your trial and pay nothing.


SoundSet Specifics
Moods
Outside the tower
Main entrance
Hallways
Hallways (with music)
Magically charged room
Portal room
Portal open
Portal close
Alchemy lab
Menagerie
Incantations
Chamber of sorcery
Music room
Room of illusions

Elements
Music - hunger
Creepy absentminded harp
Rich pedal
Winds static
Wind sweetener indoors
Winds moving
Earthquake rumble small
Torch on wall
Ice and glaciers
Crackling ice atmosphere
Interior white noise
Large static
Ghostly fog
Hissing steam
Electro forcefield
Misty ethereal elements (more often)
Alchemistic bubbling
Boiling water
Heavy bubbling
Shimmering og
Shimmering one
Shimmering two
Shimmering three
Steam
Crystal pillars
There be magic runes constant
Magical windchimes
The Portal (energy)
Open portal sound (resonance)
Open portal sound
Automatic harpsichord
Enchanted pipe
Enchanted tanpura
Cats
Kitten meow
Small pixie wings
Monkey laugh
Small monkey
Abyssal chicken
Horrible scratching (shorts)
Horrible scratching (longs)
Gentle growling
Cage rattle
Footsteps on wood
Distant small explosions
Flipping pages
Door closed
Breaking beaker
Forest day
Sweeping the floor
Incantations
Creaking door
Door close
Magic broom
Incantation
Beaker smash
Magical windchime
Ethereal element
Portal activation
Portal deactivation
Sonic trap
Swinging blade trap
Net trap
Stabbing blade trap
Poison needle trap
Inferno Trap
Fire trap
Arrow trap
Slashing cage trap
Poison dart trap
Ceiling spear trap
Force blast trap
Freezing spray trap
Acid spray trap
Gas trap chest
Negatice energy trap

Credits
Wizard's tower
This SoundSet was imagined, compiled, designed, created, mixed and finished by Benjamin Loomes for Syrinscape, using samples created by him and also the following list of samples from the collaborative Internet database of creative-commons licensed sounds freesound.org:
"20100423-hungry-cats-03" by "dobroide" (https://freesound.org/people/dobroide/)
"Door-Slam" by "Winsx87" (https://freesound.org/people/Winsx87/)
"" by "Ashleyxxpiano" (http://www.freesound.org/people/Ashleyxxpiano/)
"trap-01" by "LittleRobotSoundFactory" (https://freesound.org/people/LittleRobotSoundFactory/)
"20100423-hungry-cats-02" by "dobroide" (https://freesound.org/people/dobroide/)
"Creaking-Wooden-Door-0004" by "d-w" (https://freesound.org/people/d-w/)
"Creaking-Wooden-Door-0002" by "d-w" (https://freesound.org/people/d-w/)
"20100423-hungry-cats-01" by "dobroide" (https://freesound.org/people/dobroide/)
Stadium static sourced from "vhs-vcr-static-noise-and-glitches" by skyernaklea of Freesound.org
"Creaking-Wooden-Door-0006" by "d-w" (https://freesound.org/people/d-w/)
"20100423-hungry-cats-04" by "dobroide" (https://freesound.org/people/dobroide/)
"fireplace" by "leosalom" (https://freesound.org/people/leosalom/)
Key: "sample name" by "username". Find user freesound accounts under http://www.freesound.org/people/[username]
Slashing cage trap created by Benjamin Loomes for Syrinscape
Crystal Entities created by Christian Koerding for Syrinscape
Net trap – Created by Barry Doublet for Syrinscape
Incantations – performed and recorded and effected by Benjamin Loomes for Syrinscape
Windchimes created by Barry Doublet for Syrinscape
Ice and glaciers created by Christian Koerding for Syrinscape
Footsteps on wood created by Christian Koerding for Syrinscape
Tiny dragon wings sounds created by Barry Doublet for Syrinscape
Misty maze musical elements composed and performed by Christian Koerding for Syrinscape
Underwater bubbles sounds created by Barry Doublet for Syrinscape
Swing blade traps created by Barry Doublet for Syrinscape
Windy indoors created by Christian Koerding for Syrinscape
Footsteps on wood sounds created by Barry Doublet for Syrinscape
Evil chicken sounds created by Barry Doublet for Syrinscape
"Devil's Harpsichord" created by Benjamin Loomes
Alchemistic bubbling created by Chris Koerding for Syrinscape
Portal close – created by Benjamin Loomes for Syrinscape
Cavern winds enhanced created by Christian Koerding for Syrinscape
Ceiling spear trap sounds created by Benjamin Loomes
New shimmering veils – created by Benjamin Loomes for Syrinscape
Mythalar drone created by Christian Koerding for Syrinscape
Earthquake rumble small sounds created by Barry Doublet for Syrinscape
Barefoot on wood sounds created by Barry Doublet for Syrinscape
Taken from a sample of a recording of a Tasmanian Devil
Black smoke noises created by Barry Doublet for Syrinscape
Cage rattles – created by Benjamin Loomes for Syrinscape
Gas trap chest sounds created by Barry Doublet for Syrinscape
Cat meaow sounds created by Barry Doublet for Syrinscape
AND
All weapons recorded and mastered by Benjamin Loomes for Syrinscape
Music composed, performed and recorded by Benjamin Loomes for Syrinscape.
"Absentminded Harp"‌ ‌composed‌ ‌and‌ ‌performed‌ ‌by‌ ‌Benjamin Loomes ‌for‌ ‌Syrinscape
"Caves of Hunger" – composed and performed by Christian Koerding for Syrinscape
"Enchanted harpsichord" – composed, performed and recorded by Benjamin Loomes for Syrinscape
"Enchanted tanpura" – composed, performed and recorded by Benjamin Loomes for Syrinscape
"Enchanted pipe" – composed, performed and recorded by Benjamin Loomes for Syrinscape
Icons made by:
Lorc, (http://lorcblog.blogspot.com)
Delapouite, (http://delapouite.com)
John Colburn, (http://ninmunanmu.com)
Felbrigg, (http://blackdogofdoom.blogspot.co.uk)
Available on http://game-icons.net
And Karen Loomes for syrinscape.com
Background Art sourced from the Public Domain CC0 and edited by Karen Loomes for Syrinscape