Music and Sound Effects: Wild West Town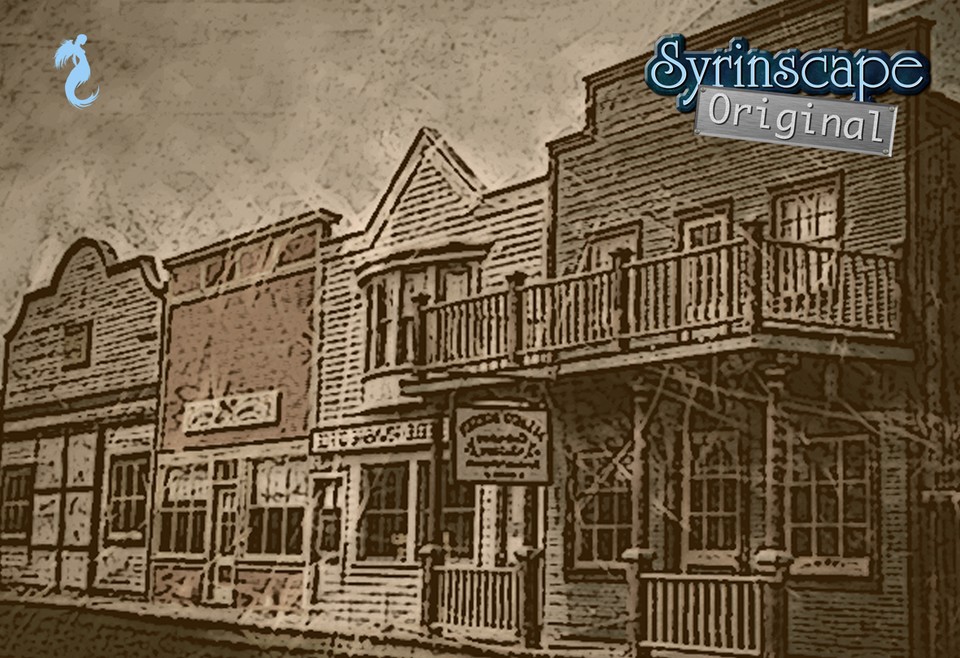 This rich Wild West SoundSet comes complete with moods for a small village, a large city, a saloon complete with a ragtime pianist, and of course a bar fight! There's even an ambiance that takes you on a wagon journey between these different locations... and there's original music by Dan Brown too. Everything you need for your cowboy adventures!

This SoundSet will appear by default in the Syrinscape Sci-Fi Player app, but you can make it appear in any of the apps by using the Campaign Manager.
This product is included for FREE with a SuperSyrin Subscription. Consider trying that out instead?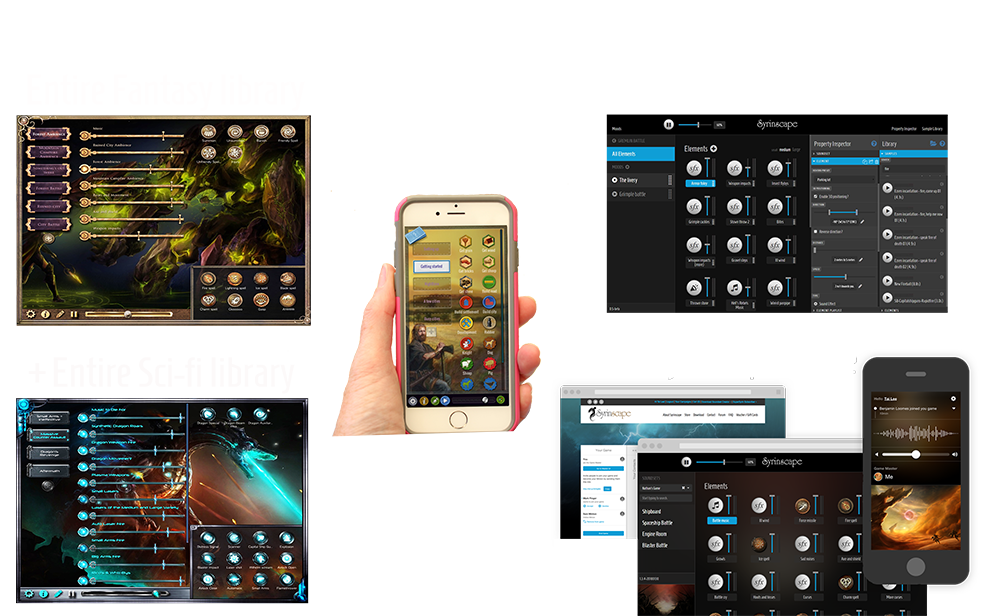 $10.99 per month. 1st month FREE.
Full access to everything Syrinscape.
Cancel before the end of your trial and pay nothing.


SoundSet Specifics
Moods
Small village
Small village (no church)
Large city
Saloon
Saloon bar fight
The high plains

Elements
Wild West music
Saloon music
Churchbells
Horses
Horse walk
Horse gallop
Gusty wind
Dogs
Smashing glass
Bright rowdiness
Grunts and shouts
Flirty laughs
Mead glasses clinking
Thwack!
Thwack more!
Passing by
Commoners
Blacksmith
Wagon train
Cows
Raucous crowd ii
Raucous crowd i
Dock ambiance
Busy marketplace
Business in the streets
Happy rich murmuring
Animals
More birds
Insects
Manly men
Enjoying the show
Hit
Revolver shot
Revolver reload
Revolver chamber spin
Double barrel shot
Rifle shot
Rifle reload
Rifle shot and reload
Bow draw
Bow critical
Arrow in wood
Arrow in flesh
Hatchet throw
Hatchet pierce
Hatchet crit
Coinpurse
Horse
Care for a drink
Comfy bed
Feeling lucky
Good company
Handsome stranger
Let's dance
Sarsaparilla
Squat with spurs
Yes
No
Maybe
Who are you?
Fire water
Hard labor
Not welcome
The law
Trouble
Yes
No
Maybe
Can do that
Can't do that
Don't know
Yehaw

Credits
Wild West Town
This SoundSet was imagined, compiled, designed, created, mixed and finished by Dan Brown for Syrinscape, using samples created by him and also the following list of samples from the collaborative Internet database of creative-commons licensed sounds freesound.org:
"doing-them-cobblestones" by "inchadney" "rbh-rope-swishes-01" by "rhumphries" (
https://freesound.org/people/rhumphries/
) "Horse-Snort-2" by "Erh" (
https://freesound.org/people/Erh/
) "rbh-rope-swishes-01" by "rhumphries" (
https://freesound.org/people/rhumphries/
) "pumpmkin-guts-squish-4" by "mwlandi" (
https://freesound.org/people/mwlandi/
) "playground-01" by "klankbeeld" (
https://freesound.org/people/klankbeeld/
) "Beerglasses-01" by "Matucha" (
https://freesound.org/people/Matucha/
) "Horse" by "3Bagbrew" (
https://freesound.org/people/3Bagbrew/
) \"Horse-Neigh" by "Dobroide" (
https://freesound.org/people/Dobroide/
) "festival-crowd-01 – NONE" by "koops" (
https://freesound.org/people/koops/
)
Key: "sample name" by "username". Find user freesound accounts under http://www.freesound.org/people/[username]
Revolver Shot 1 is used under a royalty free SFX (single use) license, sourced from Revolver Pack on Audiojungle by Zeksys
Revolver Shot 2 is used under a royalty free SFX (single use) license, sourced from Revolver Pack on Audiojungle by Zeksys
Revolver Shot 3 is used under a royalty free SFX (single use) license, sourced from Revolver Pack on Audiojungle by Zeksys
Revolver Shot 4 is used under a royalty free SFX (single use) license, sourced from Revolver Pack on Audiojungle by Zeksys
Rifle Shot 1 is used under a royalty free SFX (single use) license, sourced from Bolt Action Rifle Pack Karabiner 98K on Audiojungle by FascinatedSound
Rifle Shot 2 is used under a royalty free SFX (single use) license, sourced from Bolt Action Rifle Pack Karabiner 98K on Audiojungle by FascinatedSound
Rifle Shot 3 is used under a royalty free SFX (single use) license, sourced from Bolt Action Rifle Pack Karabiner 98K on Audiojungle by FascinatedSound
Rifle Shot 4 is used under a royalty free SFX (single use) license, sourced from Bolt Action Rifle Pack Karabiner 98K on Audiojungle by FascinatedSound
Rifle Shot 6 is used under a royalty free SFX (single use) license, sourced from Bolt Action Rifle Pack Karabiner 98K on Audiojungle by FascinatedSound
Rifle Shot 7 is used under a royalty free SFX (single use) license, sourced from Bolt Action Rifle Pack Karabiner 98K on Audiojungle by FascinatedSound
Rifle Shot 8 is used under a royalty free SFX (single use) license, sourced from Bolt Action Rifle Pack Karabiner 98K on Audiojungle by FascinatedSound
Rifle Shot 9 is used under a royalty free SFX (single use) license, sourced from Bolt Action Rifle Pack Karabiner 98K on Audiojungle by FascinatedSound
Rifle Shot 10 is used under a royalty free SFX (single use) license, sourced from Bolt Action Rifle Pack Karabiner 98K on Audiojungle by FascinatedSound
Rifle Shot and Reload 1 is used under a royalty free SFX (single use) license, sourced from Bolt Action Rifle Pack Karabiner 98K on Audiojungle by FascinatedSound
Rifle Shot and Reload 2 is used under a royalty free SFX (single use) license, sourced from Bolt Action Rifle Pack Karabiner 98K on Audiojungle by FascinatedSound
Rifle Shot and Reload 3 is used under a royalty free SFX (single use) license, sourced from Bolt Action Rifle Pack Karabiner 98K on Audiojungle by FascinatedSound
Rifle Shot and Reload 4 is used under a royalty free SFX (single use) license, sourced from Bolt Action Rifle Pack Karabiner 98K on Audiojungle by FascinatedSound
Rifle Shot and Reload 5 is used under a royalty free SFX (single use) license, sourced from Bolt Action Rifle Pack Karabiner 98K on Audiojungle by FascinatedSound
Rifle Shot and Reload 6 is used under a royalty free SFX (single use) license, sourced from Bolt Action Rifle Pack Karabiner 98K on Audiojungle by FascinatedSound
Rifle Shot and Reload 7 is used under a royalty free SFX (single use) license, sourced from Bolt Action Rifle Pack Karabiner 98K on Audiojungle by FascinatedSound
Rifle Shot and Reload 8 is used under a royalty free SFX (single use) license, sourced from Bolt Action Rifle Pack Karabiner 98K on Audiojungle by FascinatedSound
Rifle Shot and Reload 9 is used under a royalty free SFX (single use) license, sourced from Bolt Action Rifle Pack Karabiner 98K on Audiojungle by FascinatedSound
Rifle Shot and Reload 10 is used under a royalty free SFX (single use) license, sourced from Bolt Action Rifle Pack Karabiner 98K on Audiojungle by FascinatedSound
Revolver Spin is used under a royalty free SFX (single use) license, sourced from Revolver Pack on Audiojungle by Zeksys
Revolver Reload is used under a royalty free SFX (single use) license, sourced from Revolver Pack on Audiojungle by Zeksys
Rifle Reload 1 is used under a royalty free SFX (single use) license, sourced from Bolt Action Rifle Pack Karabiner 98K on Audiojungle by FascinatedSound
Rifle Reload 2 is used under a royalty free SFX (single use) license, sourced from Bolt Action Rifle Pack Karabiner 98K on Audiojungle by FascinatedSound
Rifle Reload 3 is used under a royalty free SFX (single use) license, sourced from Bolt Action Rifle Pack Karabiner 98K on Audiojungle by FascinatedSound
Rifle Reload 4 is used under a royalty free SFX (single use) license, sourced from Bolt Action Rifle Pack Karabiner 98K on Audiojungle by FascinatedSound
Rifle Reload 5 is used under a royalty free SFX (single use) license, sourced from Bolt Action Rifle Pack Karabiner 98K on Audiojungle by FascinatedSound
Rifle Reload 6 is used under a royalty free SFX (single use) license, sourced from Bolt Action Rifle Pack Karabiner 98K on Audiojungle by FascinatedSound
Handsome Stranger 1 performed by Julie Mallet-Paret and prepared by Dan Brown
Handsome Stranger 2 performed by Julie Mallet-Paret and prepared by Dan Brown
Horse Breath 1 is used under a royalty free SFX (single use) license, sourced from Horse Breath on Audiojungle by Pure-Noise
Horse Breath 2 is used under a royalty free SFX (single use) license, sourced from Horse Breath on Audiojungle by Pure-Noise
Horse Breath 3 is used under a royalty free SFX (single use) license, sourced from Horse Breath on Audiojungle by Pure-Noise
Horse Breath 4 is used under a royalty free SFX (single use) license, sourced from Horse Breath on Audiojungle by Pure-Noise
Horse Breath 5 is used under a royalty free SFX (single use) license, sourced from Horse Breath on Audiojungle by Pure-Noise
Horse Walk 1 is used under a royalty free SFX (single use) license, sourced from Horse Walk on Audiojungle by prosoundfx
Horse Neigh 1 is used under a royalty free SFX (single use) license, sourced from Horse Neigh on Audiojungle by prosoundfx
Horse Neigh 2 is used under a royalty free SFX (single use) license, sourced from Horse Neigh on Audiojungle by prosoundfx
Horse Gallop is used under a royalty free SFX (single use) license, sourced from Horse on Audiojungle by erhanbici
AND
Raucous tavern voices created by Syrinscape
Good Company 1 performed by Julie Mallet-Paret and prepared by Dan Brown
Good Company 2 performed by Julie Mallet-Paret and prepared by Dan Brown
Double Barrel Shot 4 is used under a royalty free SFX (single use) license, sourced from Double Barrel Shotgun Shot on Audiojungle by Ghetty
No 1 performed by Julie Mallet-Paret and prepared by Dan Brown
No 2 performed by Julie Mallet-Paret and prepared by Dan Brown
Yes 1 performed by Julie Mallet-Paret and prepared by Dan Brown
Yes 2 performed by Julie Mallet-Paret and prepared by Dan Brown
Squat with Spurs 2 performed by Julie Mallet-Paret and prepared by Dan Brown
Sheriff Don't Know performed by Adam Snow and prepared by Dan Brown
Sheriff Can't Do That performed by Adam Snow and prepared by Dan Brown
Sheriff Fire Water performed by Adam Snow and prepared by Dan Brown
Sheriff Can Do That performed by Adam Snow and prepared by Dan Brown
Sheriff Not Welcome performed by Adam Snow and prepared by Dan Brown
Sheriff Yehaw performed by Adam Snow and prepared by Dan Brown
Sheriff No performed by Adam Snow and prepared by Dan Brown
Sheriff The Law performed by Adam Snow and prepared by Dan Brown
Sheriff Hard Labor performed by Adam Snow and prepared by Dan Brown
Sheriff Trouble performed by Adam Snow and prepared by Dan Brown
Sheriff Yes performed by Adam Snow and prepared by Dan Brown
Sheriff Maybe performed by Adam Snow and prepared by Dan Brown
Sheriff Who? performed by Adam Snow and prepared by Dan Brown
Feeling Lucky 1 performed by Julie Mallet-Paret and prepared by Dan Brown
Feeling Lucky 2 performed by Julie Mallet-Paret and prepared by Dan Brown
Double Barrel Shot 3 is used under a royalty free SFX (single use) license, sourced from Double Barrel Shotgun Shot on Audiojungle by Ghetty
Maybe 2 performed by Julie Mallet-Paret and prepared by Dan Brown
Sasparilla 1 performed by Julie Mallet-Paret and prepared by Dan Brown
Sasparilla 2 performed by Julie Mallet-Paret and prepared by Dan Brown
Lets Dance 2 performed by Julie Mallet-Paret and prepared by Dan Brown
Maybe 1 performed by Julie Mallet-Paret and prepared by Dan Brown
Care for a Drink 1 performed by Julie Mallet-Paret and prepared by Dan Brown
Care for a Drink 2 performed by Julie Mallet-Paret and prepared by Dan Brown
General hubbub created by Benjamin Loomes for Syrinscape
Comfy Bed 1 performed by Julie Mallet-Paret and prepared by Dan Brown
Comfy Bed 2 performed by Julie Mallet-Paret and prepared by Dan Brown
Double Barrel Shot 1 is used under a royalty free SFX (single use) license, sourced from Double Barrel Shotgun Shot on Audiojungle by Ghetty
Double Barrel Shot 2 is used under a royalty free SFX (single use) license, sourced from Double Barrel Shotgun Shot on Audiojungle by Ghetty
Lets Dance 1 performed by Julie Mallet-Paret and prepared by Dan Brown
Squat with Spurs 1 performed by Julie Mallet-Paret and prepared by Dan Brown
AND
Original Wild West music by Dan Brown
Joplin Rags – composed by Scott Joplin – performed (badly) by Benjamin Loomes for Syrinscape
Icons made by:
Lorc, (http://lorcblog.blogspot.com)
Delapouite, (http://delapouite.com)
John Colburn, (http://ninmunanmu.com)
Felbrigg, (http://blackdogofdoom.blogspot.co.uk)
Available on http://game-icons.net
And Karen Loomes for syrinscape.com
Background Art sourced from Flickr Public Domain CC0 and edited by Karen Loomes for Syrinscape