Music and Sound Effects: Wild West Riverboat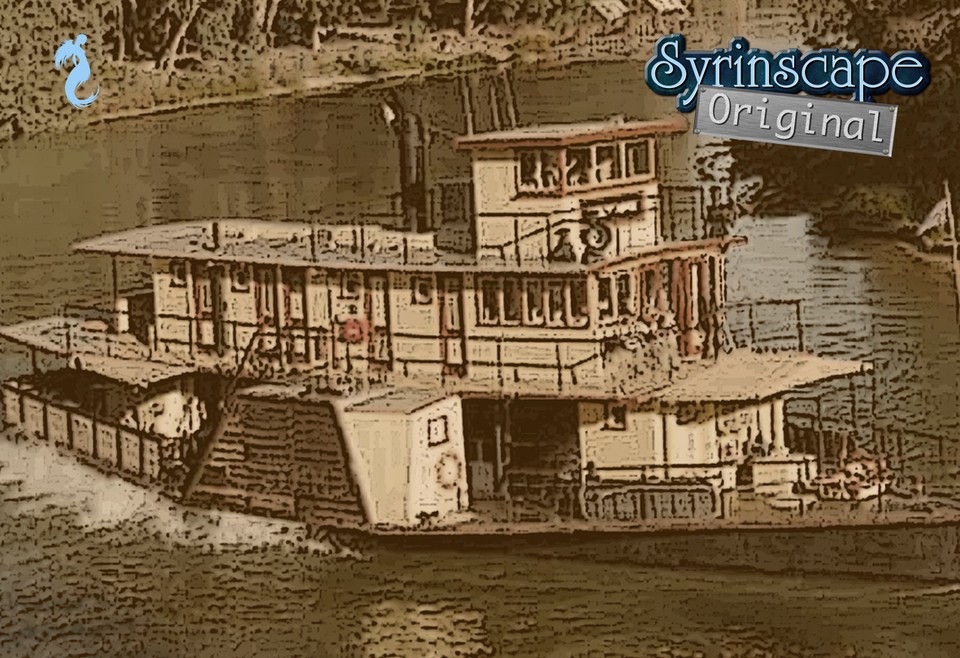 It's a fine day for a riverboat ride. The company is well dressed, if questionable. The piano player is slightly rough, but does his best. The gambling is mostly fair, so there is that! Take a stroll on the deck, visit the engine room, take to the dance floor, but whatever you do, keep half an eye on your valuables.

This SoundSet will appear by default in the Syrinscape Sci-Fi Player app, but you can make it appear in any of the apps by using the Campaign Manager.
This product is included for FREE with a SuperSyrin Subscription. Consider trying that out instead?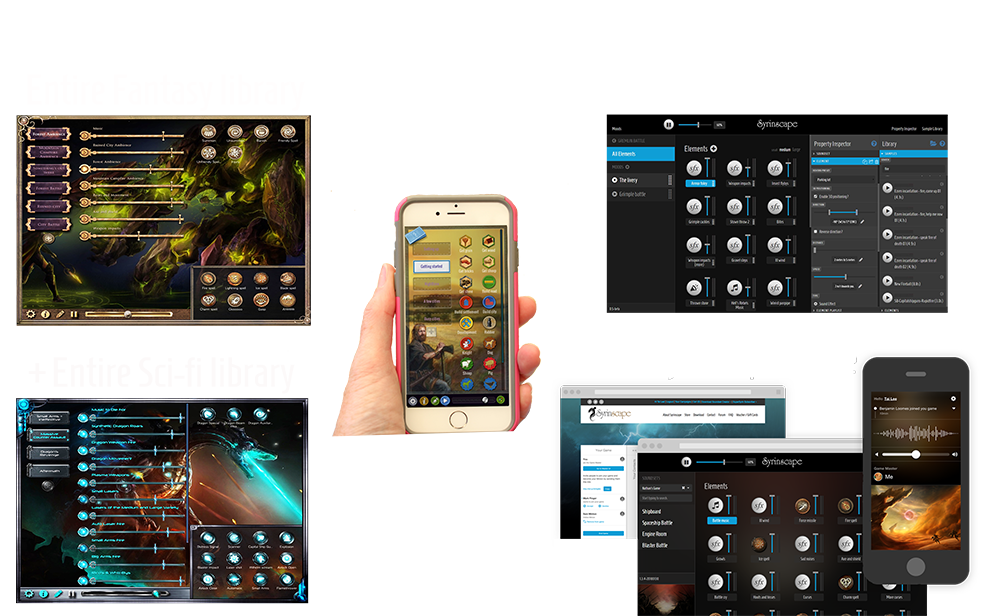 $10.99 per month. 1st month FREE.
Full access to everything Syrinscape.
Cancel before the end of your trial and pay nothing.


SoundSet Specifics
Moods
Riverboat ride
Gambling night
Dancing
Engine room
Day time stroll
Night time stroll
Port

Elements
Riverboat music
Happy rich murmuring
Happy birdies
Mountain stream
Steamer whistle
Steamer paddles
Playing cards
Coins
Dice
Lanterns swinging
Nighttime crickets
Cheers
Flirty laughs
Mead glasses clinking
Steam releases
Steam powered mechanism
Deck Swaying
Rat scratches (occasional)
Ship building
Street noises
Hawker
The waterwheel
Deep rumble
Riverboat whistle
Steam release
Steam pipe burst
7, I Won
Blackjack
Bust
Gamblin in the mine
Lady Luck
One more hand
Red again!?
Win
Yes
No
Another hand
Another time
Better luck
Cards are hot
Dice are lucky
House wins
Lady Luck
Place bets
Wager
Winner

Credits
Wild West Riverboat
This SoundSet was imagined, compiled, designed, created, mixed and finished by Dan Brown for Syrinscape, using samples created by him and also the following list of samples from the collaborative Internet database of creative-commons licensed sounds freesound.org:
"roofhammering03" by "WIM" (https://freesound.org/people/WIM/)
"roofhammering02" by "WIM" (https://freesound.org/people/WIM/)
"roofhammering04" by "WIM" (https://freesound.org/people/WIM/)
"27-Coins" by "Freqman" (https://freesound.org/people/Freqman/)
"Beerglasses-01" by "Matucha" (https://freesound.org/people/Matucha/)
"morning-in-the-forest-2007-04-15" by "reinsamba" (https://freesound.org/people/reinsamba/)
Key: "sample name" by "username". Find user freesound accounts under http://www.freesound.org/people/[username]
Lantern swing sounds created by Steve Barr for Syrinscape
Gambling in a Mine 2 performed by Jessy Gonzlez and prepared by Dan Brown
Another Hand 1 performed by Adam Snow and prepared by Dan Brown
7 I won 2 performed by Jessy Gonzlez and prepared by Dan Brown
Bust performed by Jessy Gonzlez and prepared by Dan Brown
Gambling in a Mine 3 performed by Jessy Gonzlez and prepared by Dan Brown
7 I won 1 performed by Jessy Gonzlez and prepared by Dan Brown
Lady Luck 1 performed by Jessy Gonzlez and prepared by Dan Brown
Red Again 4 performed by Jessy Gonzlez and prepared by Dan Brown
One More Hand 2 performed by Jessy Gonzlez and prepared by Dan Brown
Cards are Hot performed by Adam Snow and prepared by Dan Brown
No performed by Adam Snow and prepared by Dan Brown
Place Bets 2 performed by Adam Snow and prepared by Dan Brown
Lady Luck 2 performed by Jessy Gonzlez and prepared by Dan Brown
Dice are Lucky performed by Adam Snow and prepared by Dan Brown
Place Bets 1 performed by Adam Snow and prepared by Dan Brown
House Wins performed by Adam Snow and prepared by Dan Brown
7 I won 3 performed by Jessy Gonzlez and prepared by Dan Brown
Winner performed by Adam Snow and prepared by Dan Brown
Another Hand 2 performed by Adam Snow and prepared by Dan Brown
One More Hand 1 performed by Jessy Gonzlez and prepared by Dan Brown
Better Luck performed by Adam Snow and prepared by Dan Brown
One More Hand 3 performed by Jessy Gonzlez and prepared by Dan Brown
Red Again 3 performed by Jessy Gonzlez and prepared by Dan Brown
Lady Luck performed by Adam Snow and prepared by Dan Brown
Another Time performed by Adam Snow and prepared by Dan Brown
Red Again 1 performed by Jessy Gonzlez and prepared by Dan Brown
Gambling in a Mine 1 performed by Jessy Gonzlez and prepared by Dan Brown
Red Again 2 performed by Jessy Gonzlez and prepared by Dan Brown
Red Again 5 performed by Jessy Gonzlez and prepared by Dan Brown
Blackjack 1 performed by Jessy Gonzlez and prepared by Dan Brown
Wager performed by Adam Snow and prepared by Dan Brown
Produced from a sample of a recording of a Tasmanian Devil
Yes performed by Adam Snow and prepared by Dan Brown
AND
All weapons recorded and mastered by Benjamin Loomes for Syrinscape
Joplin Rags – composed by Scott Joplin – performed (badly) by Benjamin Loomes for Syrinscape
Icons made by:
Lorc, (http://lorcblog.blogspot.com)
Delapouite, (http://delapouite.com)
John Colburn, (http://ninmunanmu.com)
Felbrigg, (http://blackdogofdoom.blogspot.co.uk)
Available on http://game-icons.net
And Karen Loomes for syrinscape.com
Background Art sourced from Flickr Public Domain CC0 and edited by Karen Loomes for Syrinscape